Dishtables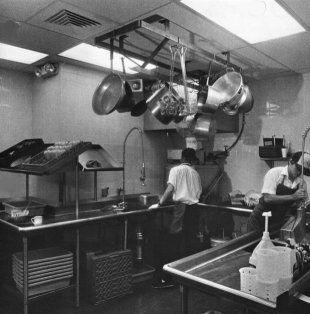 Dishtables.pdf
Through standardization of design and manufacture, Amtekco's dishtables allow ease of specifying and ordering, while maintaining quality, durability and economy. This standardized approach to the previously custom nature of dishtables insures consistently high quality at the lowest possible price.

Also, standardization of a complete line of options allows a high degree of flexibility as to layout and function. In short, Amtekco's dishtables offer a good dollar value by simplifying the manufacturing and ordering processes through standardization.
Standard Dishtables

FEATURES:
Full NSF Construction
Tops-16 ga., type 304 stainless steel
Underbracing- Fully welded 4" x 1" x 16 ga. S/S channels, stud bolted to underside of top.
Legs and Feet- 1 5/8" O.D. S/S tubing with adjustable white metal bullet feet, held in place with set-screw stainless steel gussets.
Crossrails- 1" O.D. S/S tubing welded to legs at 10" above floor ( front to back only).
Backsplash- Integral with top, 6 ½" high with 2" return to wall on a 45 degree angle with ½" turndown.
Rolled Rims- 3" high with 1 ¾" diameter roll at front and open end.
Interior Corners- Fully coved to ¾" radius
Dishwasher Opening- Sized to fit all popular makes and models of dishwashers; please specify.
Sound Deadening- Between channels and underside of top.