Produce Processing Station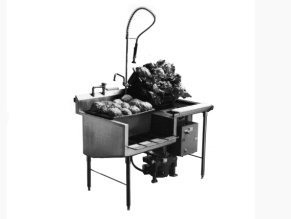 Resulting from many years of in-store operational study and refinement Amtekco now offers the ultimate produce preparation station. This remarkable unit combines all the produce preparation operations of trimming, disposal of waste, washing, conditioning, and product grading in just five feet of wall space. In addition, Amtekco designed in features that make this unit labor efficient, safe and extremely durable.

All the elements for the most rapid and effective means of preparing produce have been engineered into this work station. These elements along with such features as an anti-splash back deep sump and double lug rack for efficient produce conditioning; a baffle designed chute hopper which meets O.S.H.A. "line-of-sight" requirements for safety, an automatic reversing rotor/turntable system which doubles the life of the rotor/turntable; a "positive flush" system which virtually eliminates drain clogs, and all welded stainless steel construction combine to make Amtekco's produce preparation station the best on the market.


General Specifications

This N.S.F. approved work station features a heavy 16 gauge stainless steel table with chute hopper and sump. All horizontal and vertical corners are die formed to a ¾" radius and all exposed surfaces are highly polished. This unit comes standard with a poly knife storage rack, removable trim board (3/4" x 4 ½" x 24"), auto reverse control panel, spray rinse faucet, add-on faucet with 12" spout, stainless steel crate rack, stainless steel double lug rack, stainless steel legs, s/s feet and a continuous duty disposer. Pre-plumbing and pre-electrical connections are included for low cost; easy installation on the job site.


Disposer Specifications

Amtekco's produce station is available with two different size disposers. The model number MM-59-3 with a 10" rotor and 3 H.P. motor is recommended for disposing of the waste encountered in a produce room with average volume. The model number MM-59-5 with a 15" rotor and 5 H.P. motor is recommended for a very high volume produce department or a market that specializes in produce. Both disposers feature an automatic reversing rotor/turntable (which doubles the life of the motor/turntable) and the automatic "positive flush" which flushes the drain line and lower bowl up to five minutes after the disposer is turned off. This "flushing" eliminates the single largest cause of sewer line problems. Other standard features are adjustable "sizing" rotor/turntable to compensate for wear, no moving parts on the rotor/turntable, exterior dejamming, emergency disconnect switch and air cooled continuous duty motor.
| | | | |
| --- | --- | --- | --- |
| MODEL | LENGTH | WIDTH | HEIGHT |
| MM 59 | 59" | 32" | 43 |