Amtekco- Fresh Fish Processing Sinks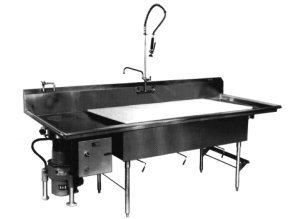 This totally integrated work station with trim boards, spray rinse faucet, lever wastes, transition cylinder with cover, and a Master disposer is manufactured with 16 gauge, 304 series stainless steel. Grooved poly cutting boards attach to the sink at an angle to easily move waste into a pitched trough behind the bowls where the scrap is carried directly into the heavy duty Master disposer. Especially designed for processing seafood waste, the disposer features a rugged 5 horsepower motor, a large 8" rotor with fish bars, and a "Positive Flush" system, which virtually eliminates drain clogging.


Available in three standard sizes, or custom fabricated to your specifications, each sink is pre-plumbed and pre-wired for easy installation.

All models are equipped with a 5 H.P. Master Disposer featuring 8" rotor with fish bars and special CRTW control. The adjustable "sizing" rotor/turntable compensates for wear while the automatic reversing feature increases the life of the rotor/turntable up to 75 percent. The automatic positive flush feature flushes the drain line and lower bowl of the disposer up to five minutes after the disposer is turned off. The disposer also features exterior dejamming, an emergency disconnect switch, an air-cooled heavy duty motor and solid cast steel construction for low maintenance and long life.