"Case Ready" Fresh Fish Processing Sinks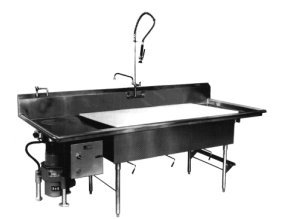 Value Engineered-works in 85% of all supermarkets using "Case Ready" products. Handles all trimming, thawing, waste disposal, clean-up, washing. A 30% savings in initial equipment cost with no compromise in performance.

Designed for "Case Ready" Fresh Fish/Seafood Operations, Amtekco's new line of "Case Ready" Fresh Fish Processing Sinks are the only piece of equipment you will need in your fresh seafood shop. The units are a totally integrated work station with trim board, spray rinse and fill faucet, and a disposer sized and specifically designed for processing seafood waste.

Six models are available; three basic and three with disposers. The basic unit consists of a three bowl stainless steel sink with double drainboards with standard accessories of a faucet package, drains and a poly trim board. The models with a disposer package consists of a rugged 2 HP fish disposer, large 10" chute welded into the drainboard with removable safety cover, special water tight NEMA approved CRTW control panel, "positive flush" timed after flow that virtually eliminates drain clogging caused by careless or improper disposer operation, auto reversing for longer life and less jams, and a magnetic starter that prevents accidental start up after a power interruption.
Model Numbers with Disposers
Items provided:
(1) Pre-rinse
(1) 12" Add-on faucet
(1) C2LSPTC12CRTW with vacuum breaker
(1) Disposer control bracket
(1) 12" Transition cylinder w/ cover & cover holder
(3) Crumb cup drains
(1) 18" x 27" (Approx) Cutting board
Options:
(3) Lever action wastes
(1) Preplumbing
(1) Cutting board storage rack
(2) Lever action wastes w/ rear connected overflow
( ) Additional cutting boards
Model Numbers Without Disposers
Items provided :
(1) Pre-rinse
(1) 12" Add-on faucet
(1) 5" x 18" Perforated basket
(3) Crumb cup drains
(1) 18" x 27" (Approx) Cutting board
Options:
(3) Lever action wastes
(1) Cutting board storage racks
(2) Lever action wastes w/ rear connected overflow
( ) Additional cutting boards